Prior to his role at the Acton Institute, Dr. Barrows served as the Executive Vice President, Provost and Dean of Faculty of Aquinas College (Grand Rapids, MI) where he was also a tenured associate professor of economics. While at Aquinas, he taught undergraduate and graduate courses in economics, and led a team of more than 85 full-time faculty, 150 part-time faculty, and 30 staff members serving more than 1,500 undergraduate and 150 graduate students.
Dr. Barrows also served 21 years in the Air Force as an acquisition officer, an economics professor at the United States Air Force Academy and a faculty mentor at the National Military Academy of Afghanistan. He retired from the Air Force in 2013, holding the rank of Lieutenant Colonel.
A graduate with distinction of the Air Force Academy, Barrows has a bachelor of science degree in economics (1992), a master of arts degree in economics from Pennsylvania State University (1993), and a doctorate in economics from Auburn University (2002).
He and his wife Kimberly (née Uddin) are the parents of three sons and two daughters.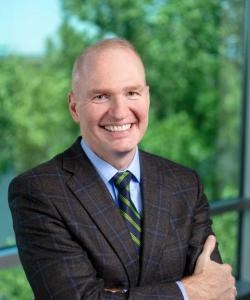 Speaker Years:
2024,
2023,
2022,
2021,
2020,
2019